Kramer VP-6A VGA 1-6 Distribution Amp w/ Audio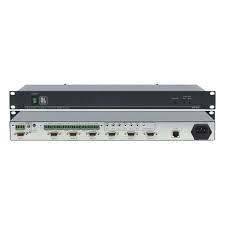 High Bandwidth (15-pin HD) – 500MHz (−3dB).
Max. Resolution (Twisted Pair Output) – WUXGA & 1080p.
HDTV Compatible.
Built-In Audio Transcoding – Balanced or unbalanced stereo input with 12 live outputs (6 balanced and 6 unbalanced).
Audio Level Controls – Left & right.
Power Connect™ System – A single connection to the VP−6A powers both transmitter and receiver when the devices are within 150ft (50m) of each other.
ID Bit Control.
EQ (Peaking) Control.
Horizontal and Vertical Polarity Selection.
System Range – Up to 100m (300ft). Greater distances possible depending on signal resolution and cable.
Cable – UTP (unshielded twisted pair) or STP (shielded twisted pair) cable such as CAT 5.
Standard 19" Rack Mount Size – 1U.